The new backlash-free torque overload protection
Torque Limiters and Safety Couplings always assured!
courtesy of R+W America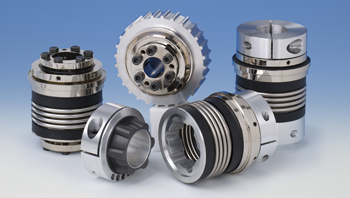 Made of special steel, even completely sealed

For applications in the food area it is mostly required to protect the coupling against aggressive cleaning detergents , liquid media, or dirt. Sealed couplings are also used in clean-room technology and in very dusty applications. A complete sealing that is optionally offered by R+W avoids leaking grease and at the same time penetration of coupling damaging substances. This solution provides all the sealing elements integrated in one component. An O-ring is inserted in the base element of the coupling and covered by an extended actuation ring. This system makes sure that the external dimensions of the coupling stay the same. Costly solutions where the coupling was sealed with a housing are therefore unnecessary

Nitrocarburizing, oxidizing, or nickel-plating is possible for steel types. Aluminum can be anodized, other materials and surfaces can be offered on request.

Function of the patented R+W prinziple

R+W's patented operational principle guarantees reliable and safe protection against overload even with heavy loads. Due to the spring loaded ball detent design of the coupling high repeating accuracy of the preset disengagement torque is reached and continuous operation is ensured when using a ball detent design torque limiter vs. a slip clutch. Overload protection does not allow any compromises in regard to reliability and quality of the individual components although torque limiters are always designed for an economic use. R + W conceived a solution which stands out.

Function always assured

At the factory the torque limiters are adjusted to the disengagement torque requested by the customer. Once installed, the disengagement value can easily be changed.

The torque area is radially engraved on the adjustment nut. An outstanding feature is an easy radial adjustment which clearly facilitates adjustment of the coupling. Due to the positive stop of the adjustment nut, the safety function of the coupling is allways assured.

For each torque limiting coupling model there are four different function systems available:

single position = re-engaging automatically in the same position (360°)

multi-position = re-engaging in several positions per revolution

full disengagement = contact free separation, must be re-engaged manually

load holding = no disengagement possible, controllable via inductive switch


These four function systems R+W offers a solution for every application.

Conclusion about Torque Limiters


Above all in the highly productive series production, for example with shift work, machine down times cause high loss of production costs which inevitably result in rising unit costs. When using a torque limiter, which separates driving force and driven force in milliseconds and is thus fully operable after a very short time, consequential damages will be minimized. And the price of the coupling can be considered as being relatively low when comparing it to later arising follow-up costs.


If you wish to receive more information on this product please do not hesitate to contact R+W Antriebselemente GmbH at phone: +49-9372-9864-0 or via email at info@rw-kupplungen.de